Posted by Stephanie on 9-19-18
EDITOR'S NOTE: Answering life questions with biblical principles is what we do every day at 412teens. The Bible has answers to just about any question we can think of (2 Timothy 3:16). If there isn't a direct answer, then we have biblical principles to help us find what's best for each of us personally. Add to that the fact that Holy Spirit was sent to help us make good decisions, and we can count ourselves well-equipped to deal with life (John 14:16, 26, 15:26).
This blog series gives practical examples of how to use the Bible to solve life's daily problems. Hopefully by seeing these cases, you will begin to understand how the Bible indeed has answers (and we can help you find them). Take note of the Bible references and check them for yourself as you read through Stephanie's answer to the following question.
—Cat, 412teens Editor
---
Question: How do I stop judging and condemning people?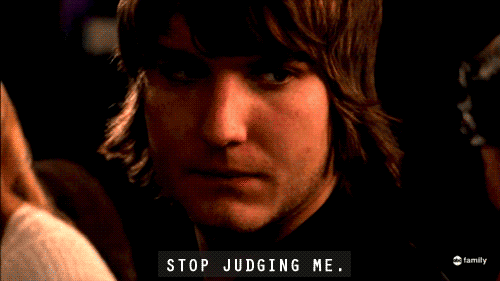 Answer by Stephanie
Judging others too harshly is a problem a lot of people have. It's almost human nature to compare ourselves to others, and sometimes we end up with negative thoughts about somebody else. But the great news is if you've accepted Jesus Christ as your personal Savior, you have the Holy Spirit living within you. The Holy Spirit works with you to change you from the inside out, including the way you look at others and how you treat them.
It's already a great thing that you want to stop judging others—that's the first step! When you're tempted to judge and condemn others, remember that everyone has fallen short of the glory of God (Romans 3:23), including you. We've all sinned, we've all messed up, and, by God's standards, we're all worthy of judgement and condemnation. While we were in our messy and sinful state, He allowed His perfect Son, Jesus Christ, to die for us out of His great love and mercy (Colossians 2:13-15). Instead of judgement from God, we've received love and mercy.
Because we've received God's love and mercy, we really have no right to judge others.
"A new command I give you: Love one another. As I have loved you, so you must love one another." —John 13:34
We are now able to extend love and mercy to other people through the Holy Spirit's help. It's not always natural, and at times it's certainly not easy. That's where the Holy Spirit comes in. We can call on Him every time the temptation to judge and condemn comes, and through His power, He will help us resist that temptation (1 Corinthians 10:13).
The key is that we must be WILLING to change.
Be WILLING to have compassion instead of condemnation. Be WILLING to see their perspective and not just your own. Be WILLING to understand them beyond what they look like, do, or say. Though the Spirit will guide you, YOU still have to make the decision to hold your tongue and/or crush condemning thoughts.
Also, remember what is at stake when we interact with other people. We're called to be salt and light (Matthew 5:13-16), to be Jesus' hands and feet, and to tell others the Good News of Salvation (Matthew 28:18-20). If we don't tell them, who will? If we don't show them love and mercy, who will?
When you feel tempted to judge, recall what Jesus said in Matthew 7:1-5: "Judge not, that you be not judged. For with the judgment you pronounce you will be judged, and with the measure you use it will be measured to you. Why do you see the speck that is in your brother's eye, but do not notice the log that is in your own eye? Or how can you say to your brother, 'Let me take the speck out of your eye,' when there is the log in your own eye? You hypocrite! First take the log out of your own eye and then you will see clearly to take the speck out of your brother's eye."
Ask God to help you love others more.
Because God commands that we love one another, He will always answer the prayer to help us love others more. He's also the author of love—it's who He is! He can certainly empower us and fill us up with love for others. Also, if you're not feeling loved, ask God to help you feel His love. Spend time with Him in prayer and in Scripture, thinking about His Word and the great things He's done for us through giving us salvation. Out of the love He gives us, your love for others will increase.
—Stephanie
#relatable?
Do you frequently judge other people? Do you struggle to have grace with others? Do you condemn people who are living in sin in your mind? Do you struggle to pray for those people? Share your story HERE!
ALSO SEE: